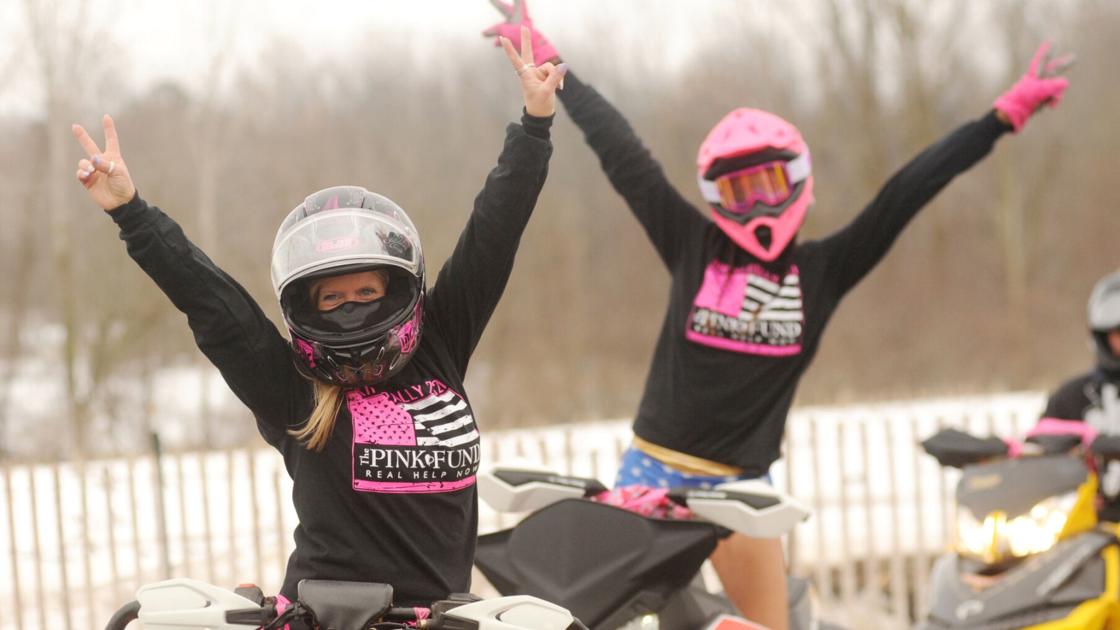 The Genesee County Sno Packers Bikini Rally returned Saturday with its mix of snowmobiles and swimwear for a cause. The event donates to The Pink Fund, a non-profit which helps cover cost-of-living expenses for breast cancer patients in active treatment.
They had already raised nearly $29,000 as of Saturday afternoon, with hopes of breaking $30,000 by the day's end. And as a bonus, they were operating on Sno Packers grounds again. "We're back on our home turf, which is fantastic," said Theresa Osborn of Oakfield, one of the event's two coordinators. "We were traveling around for a few years because we lost our ability to be on our own land, but the Sno Packers figured out where their boundaries were four pour property and it's good to be back here."
As with any event over the past year, COVID-19 restrictions posed a challenge. Osborn said attendance was limited but online donations have been outstanding.
"It was a hiccup, to say the least, In order to get things going for this weekend," Osborn said. "The weather's not cooperating either, so we had rain, and now we have ice and mud …"
"We're just going to have fun with it," Elaina Marie said.
And as traditional, the riders — mostly female, with a few males — lined up before taking their machines on a series of runs before the a**embled spectators. Categories included hottest ride crowd favorite, most original and most pledges.
About 30 riders participated in the day's rally. A vintage snowmobile was also raffled off as part of the effort.
Online sales and the ability to used credit cards were also new this year. Beyond the event itself, the rally's Facebook page also offers calendars, T-shirts, decals and more.
"We just want to thank our volunteers who have put (their work into this) and all of the riders," Osborn said. "We're so excited that they all joined us and are having a great time."
Check the Bikini Rally page on Facebook for merchandise, online shopping and donation information, and more.